Fabrication of optical components
FABRICATION OF OPTICAL COMPONENTS
In-house optical capabilities
Optical glass grinding and polishing
For more the 25 years, our specialists have developed a solid expertise in diode based laser modules in combination with an extensive knowledge of glass polishing and grinding. Our unique optical shaping process converts raw glass to precision shaped lenses for generating uniform laser lines and Top Hat profiles. Our in-house capabilities allow us to create optimized lenses for each specific laser diode's optical  characteristics. This ensures high repeatability and performance for our customers.
Optical glass grinding and polishing
Microfabrication of optical components
Osela's competency in optical microfabrication and design gives us the ability to create optics with features down to nanometer precision. Our design capabilities include binary, grayscale and multi level diffractive optics. Etched directly in fused silica, the components are designed in-house with our proprietary software and are fully charactarized for any type of optical pattern. 
Microfabrication of optical components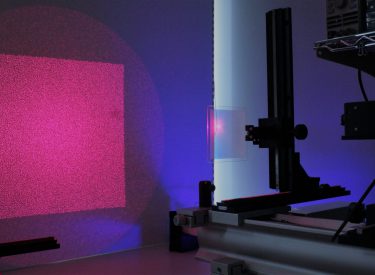 Osela's manufacturing facility in Montreal, Canada is well setup with internal AR coating capabilities in both thermal and e-beam technologies. The recipes developed over the years contribute to optimal transmission performance, from wavelengths spanning the UV to IR across all of our products. Our intelligent deposition technology has allowed us to develop unique optical solutions, such as specialized mirrors, filters and masks.