Specialized beam shaped laser illumination sources for bio-instrumentation
Biological analysis using bio-instruments, for applications such as Drug development & DNA research requires the need for laser illumination sources as they play a key role in their working principle.  Osela laser projectors along with our beam shaping capabilities enhances the performance of bio-instruments providing key system advantages: optical efficiency, system accuracy and higher processing speeds.  

Osela is fully  equipped to provide our customers with solutions to their specific bioinstrumentation needs. Our laser projectors and specialized beam shapers, Top Hat, True Gaussian & ILS. These platforms were designed & optimized for applications such as: flow cytometry, confocal microscopy, DNA sequencing and other types of biological applications. The main working principle is laser induced fluorescence and scattering.  
For example, a flow cytometer is an instrument used to identify and measure physical and chemical characteristics of cells, as they travel through a flow tube very rapidly.  The laser excites fluorescent dyes or proteins (fluorophores, biomarkers, tags) with which the substance of interest is labelled and the fluorescence signal is detected and translated to electronic signal for analysis. The spatial uniformity of the illumination plays a critical role in this application, thereby requiring Osela's Top Hat beam shaping technology. The laser projects a top hat profile, creating a uniform field of light across the flow tube insuring that each cell is illuminated equally.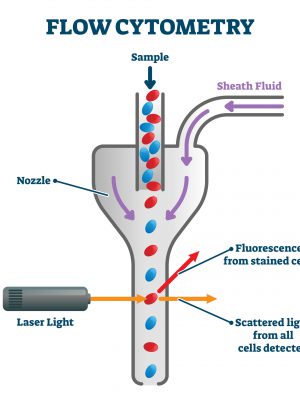 The need for Top Hat laser illumination becomes even more critical as particles under analysis become smaller. The particles, ranges from a few microns in blood analysis to submicron in applications such as: marine biology, environmental monitoring, industrial microbiology, and the food industry.  For these smaller particles the scatter and the fluorescence emitted is significantly less and therefore difficult to discriminate between signal and  noise. Bacteria for example, having a surface area of 1% that of a human cell makes the need for uniform illumination even more critical, in order to generate a stronger fluorescence signal to noise ratio. 
Other Applications:   
CONFOCAL MICROSCOPY

LIGHT SHEET FLUORESCENCE MICROSCOPY

DNA SEQUENCING

SPECTROSCOPY

DRUG DISCOVERY

IMMUNOLOGY